You want to start streaming? Have not used a software similar to OBS before? Are not sure where to start? Then you have come to the right place. I will try to explain, step by step and in an useful order, how to get started and setup your OBS for streaming OR recording.
First of all, we should make sure we can run OBS. What do we need for this:
DirectX10 capable Graphics Card

ATI HD 4000 series and onwards
NVIDIA GT 200 and onwards
INTEL HD 2000 and onwards
having DirectX10 installed is not enough, full feature support is needed, older Intel GMA or integrated chips will not work

Preferably at least a 4-Core CPU

AMD FX series and onwards, if possible not an APU variant
INTEL i5 2000 series and onwards

For console streaming we need a capture card to capture the console input

might also need a splitter/hdcp-stripper
To test your Graphics Card capabilities, and after you made sure your drivers are up-to-date, just start OBS. If you are missing necessary DirectX10 features, OBS will show you an error message.
Installing OBS can be done in a few seconds, with the installer you get both the 32 bit and if your Windows supports 64bit features also the 64bit version. On the desktop by default a shortcut to start the 32bit version is created but in the Start Menu or under Windows 8 in the Apps section, you should find a shortcut to both versions. Alternatively you can also grab the binaries, a compressed file that includes both the 32bit and 64bit version. You can  just extract the version you wish to use to a folder of your liking. The installer will also make sure you have the necessary DirectX version installed. So it can be useful to run it.
So now you should be ready to start OBS, before you click anything, let me explain the interface:
OBS starts with one Scene by default, you can add more scenes by right-clicking into the white area (marked red). Each scene is like one scenery in a theatrical play. It holds the sources you can add to the white section in the middle of OBS (marked green) also by right-clicking selecting add and choosing the desired source-type. More on that later. The Volume section, marked in purple, allows you to control the recording/stream output volume for your desktop sound as well as for your Microphone. And it allows you to mute both.
In the (marked) blue  box we find the controls section:
Settings – Open the settings window, more on this soon
Edit Scene – Allows you to arrange your sources with the mouse. You need to run a preview/stream or recording to use this feature
Global Sources – Webcams and similar devices need to be initialized to work, this can slow down scene changes, as a workaround you can add them to the list of Global Sources, and then add this Global Source to your scene to allow a smooth scene transition
Plugins – Allows you to check the installed plugins and change settings if the Plugin offers a configuration menu
Start Streaming – If you setup a server you can use this button to start a stream
Start Recording – If you setup a filepath and/or the file output only mode, you can start a recording with this button
Preview Stream – To setup your sources and arrange everything use this button in combination with "Edit Scene"
Exit – Exit the Program with this button
The pink box roughly marks the Preview Area, as soon as you start a preview/stream or recording you will see the content of the currently selected scene here. But before we start a preview and add our first sources, we should probably go through the settings dialog. At this point I also want to mention the Online-Help file for OBS:
If you want a more in-depth explanation of one of the many options OBS offers, it is the way to go. So I will just talk about the options you SHOULD change according to your system. But I will not explain every bits and piece in this guide.
So before we start our first preview, open the settings through the big gray settings button (in the blue area).

The general settings mainly allow us to choose or  preferred language for OBS and also to setup different profiles. This can be useful if you sometimes do local recordings and sometimes do an online stream with different settings. Scenes and Sources are not affected by profiles (unless the profile changes the base resolution of OBS).

Before we get to the Encoding settings, our first important stop should be the Video settings. These allow us to select a Base Resolution for OBS. We can either type in a Resolution by hand or select our preferred Monitor and let OBS use its resolution as the base.
In both cases we can use the Resolution Downscale to change the final output resolution of OBS. This allows us to work with our Monitor as the base but out for example a downscaled stream in 720p resolution. When using a downscale you should try the different available filter methods and see which gives you the best perceived quality.
Finally the FPS setting defines the output framerate of OBS or your final stream/recording. Both the output resolution as well as the output framerate can be limited by your System. So you might have to try different downscales to see what your System is capable of. Recording/Streaming a video is a very CPU-intensive operation. And the bitrate has a direct effect on the needed CPU power. Framerate not so much, but also slightly.

The encoding settings are our second very important stop. These first of all depend if you want to stream or record. Secondly if you want to stream, they also depend on your Upload rate. And finally it depends on the available encoders your system offers. To decide on the needed bitrate, check the first link below, and use the second one if you have more than x264 to select in OBS.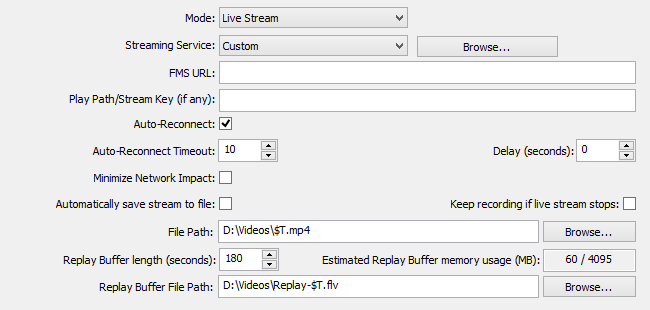 We got the bitrate, and resolution ready, so now you can setup the Broadcast settings. First of all, if you only want to record and not stream, you can switch to file output only mode. But let us assume you want to stream, for example to Twitch.tv or Hitbox.tv. Check if your desired service is already available as a Streaming service, if that is the case, select it and choose a server from the dropdown. If the service is not available, enter the server yourself into the Server field.
For services like Twitch you might have to test different servers to find out which is the best one to stream to. If you have dropped frames, but are definitely not overloading your upload with a too high bitrate, try a different server, if nothing helps, try lowering the bitrate in small steps.
The Play Path/Stream Key field is waiting for your streamkey which you can get from your provider. Twitch.tv for example has a page on its dashboard for this. Youtube gives you a different key for each live event. The rest of the options are explained in the help file, but I want to mention the option to activate save to file. Do not forget to set a file path and file name and this option will save your stream to your hard-disk.

In the audio options we can select our desktop and microphone device. You can also activate push-to-talk for your microphone or alternatively use the Noise Gate. See the help-file for more info: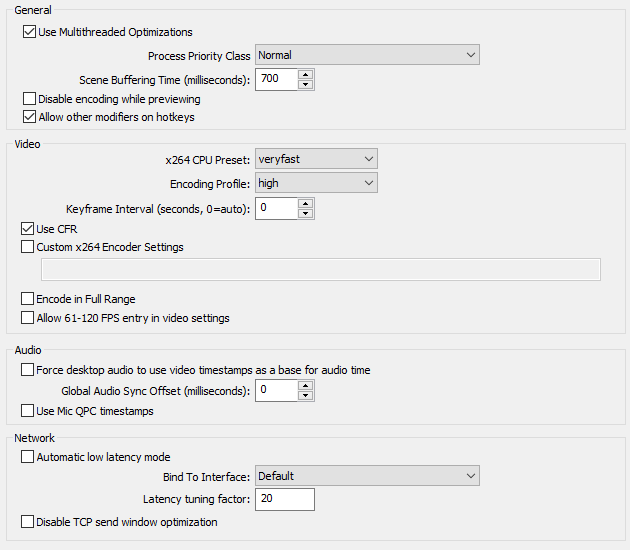 You should only touch the advanced settings if you know what you are doing. But two options you might have to change, to meet Twitch.tv's streaming requirements for example, are the Encoding Profile and the Keyframe Interval. For twitch set the Encoding Profile to "Main" and set the Keyframe Interval to 2. If you are recording and want to edit the file later in Sony Vegas or similar software, you also want to have "Use CFR" active. Change the preset only on a very powerful CPU and keep an eye on your usage.
Now its time to start our first preview and add some sources. The different sources are all explained in the help-file, and also a good explanation on when to use Window/Monitor or Game Capture.
Assuming everything works so far, you can now setup the scenes you want to have available. For example a Welcome, Pause and Ending scene, as well as the Main Scene for your Game. In any case, no matter if you are going to stream or record, you should then just do a test recording to your harddrive. Test that everything runs smooth, scene switches work flawless, and that OBS shows no error messages at the bottom left of its Window. In the bottom right you should see a steady FPS, time and bitrate counter.

When you try to watch your test recording you should use a media player that has no problems to playback mp4/flv files. For example VLC Media Player or SMPlayer. Especially Windows Media Player often has problems with those file types because of missing or broken codecs. But assuming the test recording went well, you are good to do your first online stream, or assuming you want to record, you are now good to go. The online streamer will now have to see if the selected server works well and has a good connection.
You could now check the ressources section of the OBS forum, see if there is a plugin you could use to add even more stuff to your stream or features to OBS. As always, if you have a question, correction, addition or suggestion, just use the comments section below!